Dennis Hopper, Actor... And Photographer?!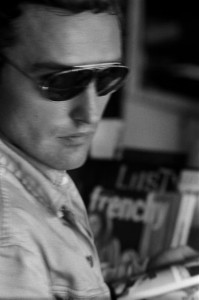 As I'm sure you've heard, Dennis Hopper passed away just days ago (the 29th of May, 2010). As an actor, I personally loved his roles in such classics as Super Mario Bros., Waterworld, and Speed, though he is best known for Easy Rider, Rebel Without a Cause, Cool Hand Luke, and more. He certainly had a knack for the dramatic, but what I didn't know was that he also had a knack for photography.
The "Chasing Light" blog has a wonderful post containing photos that Hopper took through the years (all of them black and white). I was very impressed with them; they show attention to composition and subject comparable to those of a seasoned professional or serious hobbyist. You could certainly call Hopper a serious hobbyist, though he was more widely known for his feature films than for his photography, painting, and sculpture.
Over at artnet, you can view (and attempt to purchase) 39 other photographs by Hopper that are held by various galleries.
Whether you are into Hopper's photographs or not, let's take a moment to remember a great actor and inspirational creator.